Warning Signs She's Emotionally Damaged (Signs She's High Maintenance)
Is she a narcissist or simply rude? Is she emotionally damaged or just insecure?
We all have insecurities and don't always act kindly toward others (or ourselves for that matter), but when someone's bad behaviors are chronic and out of control, these could be warning signs she's emotionally damaged beyond average.
It is not your job to fix her!
In fact, you can't.
You can't fix her, you can't only determine your standards for what you want and need in a relationship, manage your expectations, set boundaries and follow through on consequences.
If you watch for these 15 warning signs she's emotionally damaged beyond what's reasonable, especially in the early stages of courting or dating, you'll save yourself a lot of heartache later, because at the very least she'll be a high maintenance girlfriend.
And yes, some of these signs could mean she's a narcissist, but she might not be. She may feel guilty for doing these things. If that's the case, she's more likely emotionally damaged but not a narcissist.

Nonetheless, these are still warning signs she's high maintenance with little reward.
You deserve better than that and you can do better than that! If you don't think you deserve better or can do better, then you really need my WakeUP2Luv program. Big hug.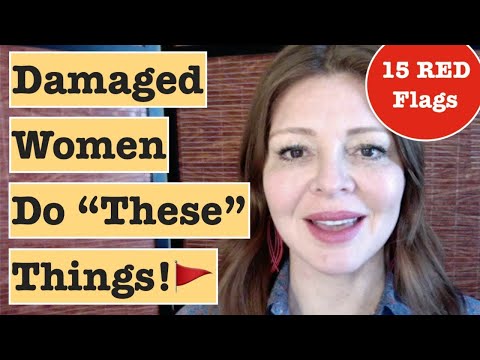 <!––NOFDP 2817 ––>
You can become a slave only by voluntary consent.
I am highly allergic to
circumcised souls
and
red flags
with
Venusian star
on them.